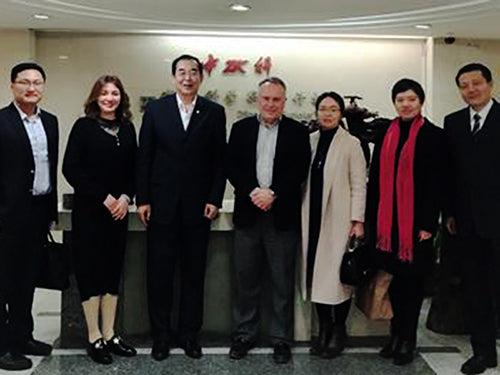 Jeff Janiszewski, Senior VP, Empire State Development, visited Sino-Sci
On December 12, 2018, the "Jiangsu Province - New York State Conference of the biological and pharmaceutical industry" was held in Nanjing, China. When celebrating the 30th anniversary of connecting the tie between Jiangsu Province and New York State, talks were conducted on further promoting the economic and trade cooperation between the two states. Jeff Janiszewski, the deputy director of the New York State Department of economic development, officials from Jiangsu department of commerce, Nanjing bureau of commerce, Jiangsu association of pharmaceutical research and development, and the leaders of 13 local biopharmaceutical enterprises attended the meeting. Dr. Peng Feng, the CEO of the Sico-Sci group, was also among the attendees.
 
Mr. Janiszewski visited the Sino-Sci group after the conference. When fully knowing the products and research background of Sino-Sci, Mr. Janiszewski highly appraised the traditional Chinese medicine (TCM) culture and its inheritance and development by Sino-Sci. Mr. Janiszewski hoped that the Sino-Sci's New York branch could introduce more and more modernized TCM products to the people in New York State and the United States. He also expected that the world should share the fruits of TCM modernization through diversified open market and cooperative communication platforms.