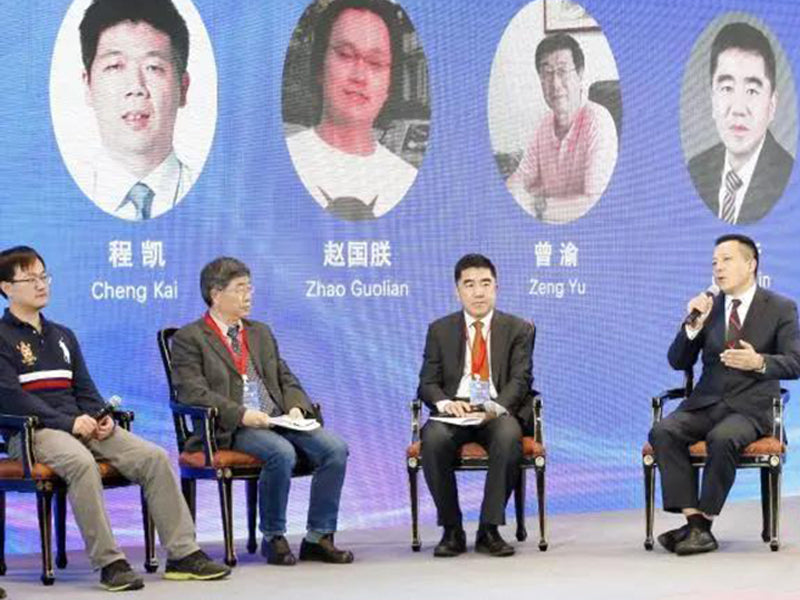 Make Chinese Herbs Internationalized: An Interview with Peng Feng
Chinanews.com, November 26, 2020, Beijing - From the Heaven to the Earth, Make Chinese Herbs Internationalized: An Interview with Peng Feng, Dean of the Chinese Herb Modernization Engineering Technology Research Center, Jiangsu Province
Reported by Su Zhang
Recently, at the 2020 International Symposium on the Peaceful Use of Space Technology - Health (IPSPACE 2020), Mr. Peng Feng, Dean of the Chinese Herb Modernization Engineering Technology Research Center, Jiangsu Province, participated in a dialogue of the Heaven and the Earth, regarding how to peacefully transform and use the space technology of health maintenance on earth.
Peng Feng is not new from the Heaven to the Earth.
"As early as in the year 2004, Chinese scientists have explored aerospace breeding technology of Reishi mushrooms," said Peng during our interview on Nov. 26. During that time, scientists from Chinese Academy of Sciences carried out a Reishi mushroom breeding trial in the space station, where the fungal genes were mutated in the aerospace environment full of micro vacuum, cosmic rays and radiance, and free of contamination and gravity. New Reishi mushroom cultivars have hence been successfully harvested with high quality, high yield, stable inheritance and autonomous intellectual property.
Peng is currently working at Sino-Sci (Zhongke) Health International, Co. Ltd, a cutting-edge technology corporate owned by Chinese Academy of Sciences and its research scientists. Peng said that as of today, not only have scientists constantly revised the cultivars and enhanced production and detection technologies, but also they have collaborated with Israel, the United States and Canada for product promotion and sales. Recently, Sino-Sci has also successfully promoted their products at the 3rd China International Import Expo and the 22nd China International Hi-Tech Fair.
Nowadays, Chinese scientists are going even further into the deep places, such as the deep space, the deep sea and the deep earth.
With the new generation of manned spacecraft successfully being set off and returning, the era of space station has come for China. Peng cited a plot of growing potatoes in the film The Martian, and hoped that in the future, the outer space can be explored and utilized as the plot in the film. He also claimed that when exploring the transformation of scientific research outcomes, scientists should on the one hand be very aware of their own research projects and goals, and on the other hands meet the strategic needs of both our country and Chinese Academy of Sciences.
Facing the sudden attack of COVID-19 pandemic, Chinese herbs have played a positive role in fighting against the pandemic, with Peng and his group devoting themselves as well. He said that whether the conventional experiences accumulated by our ancestors during thousands of years of fighting against epidemics, or the fight against SARS in 2003, or this year's fight against COVID-19 pandemic, everything has indicated the crucial advantage of Chinese herbs in building a solid foundation for human health and preventing diseases before they occur. Moreover, Peng pointed out that Chinese herbs should become more internationalized via modernization. In detail, Chinese herbs should enter the universal international language system by applying the cases and practices of Western Evidence-Based Medicine.
Such point of view is also related to Peng's previous experience, as he graduated from the chemistry major at Nanjing University. In his view, conventional chemical pharmaceuticals have encountered a bottleneck in the research and development, as researchers find it hard to discovering new chemical compounds or effective ingredients. When foreign pharmaceutical companies are turning to the research and development of herbal medicine, he thinks that Chinese herb modernization is the best path of development for Chinese pharmaceutical companies.
"On this path, we have history, we start early, we have a large market, and now we even have a working system that encourages innovation." He is very confident while he also notices the existence of both good and bad companies in this newly-rising industry. Therefore, he calls for the government to refine the supervision system by showing name lists of "red" (good) companies and "black" (bad) companies to public while encouraging innovation.
"Like how Chinese herbs work in the human body, only if we 'make our source clear', 'remain the real thing and kick out the false thing', make our 'immune barrier' strong, can we greatly develop our Chinese herb industry and make it internationalized." said Peng. (End)