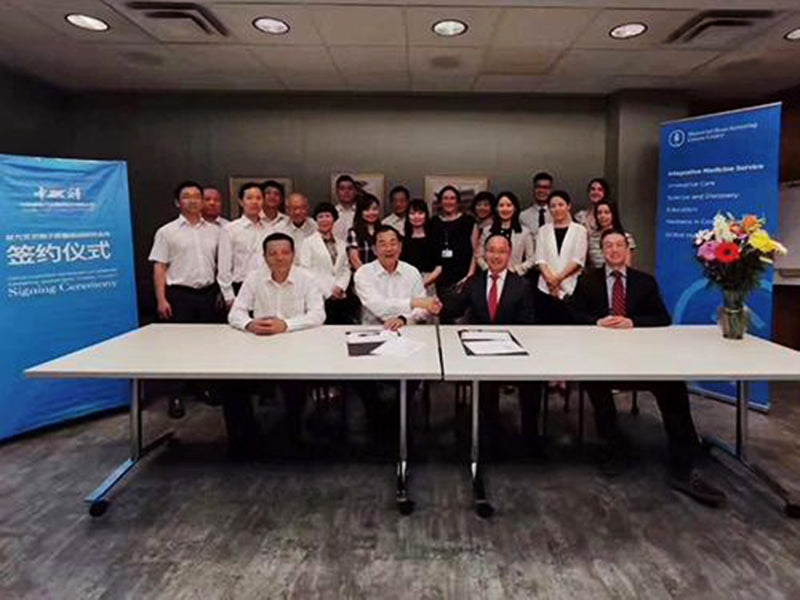 Sino-Sci and MSKCC reached clinical research cooperation on Reishi products
July 16, 2019 - Sino-Sci Group and Memorial Sloan Kettering Cancer Center signed a contract on the "Clinical research cooperation of compound Ganoderma spore capsule" in New York City. The ceremony was held by Mr. Wang Lian 'An, President of Sino-Sci Group, Dr. Mao Jun, Director of MSK Integrated Medical Center, and other executives related to this project from both sides.

This is the very first time for a Chinese enterprise of Ganoderma Lucidum (Reishi mushroom) production to collaborate with a top-ranked U.S. cancer research institute to explore how Reishi products antagonize tumor pathogenesis. It also marks a new era of cancer research utilizing Modernized Traditional Chinese Herbs (MTCH) and provides a new platform for further tumor-curable MTCH discoveries.

Memorial Sloan Kettering Cancer Center (MSKCC), founded in 1884, is the oldest and largest private cancer center in the world. As of 2017, MSKCC has been ranked as one of the top two tumor hospitals in the United States for 28 consecutive years by U. S. News. MSKCC is dedicated to the studies of human tumor pathogenesis and therapy. One focus of MSKCC is the translational research that applies research findings to patient treatment. Meanwhile, MSKCC also focuses on cancer immunotherapy, which employs the human immune system to kill cancer cells. Nowadays, MSKCC is among the 47 comprehensive cancer centers designated by the National Cancer Institute (NCI) for its scientific, clinical, and therapeutic excellence.